👨‍🏫 7 Info-packed Lessons 🧰 1 MasterTool For Easy Requirement Completion 📝
📩 Downloadable PDFs To Use Offline 👨🏼‍💻 100% Self-Paced
🚀
✅ Rank Up FAST ✅ Earn More Badges ✅ Get The Most Out Of Scouting ✅
Whether you're a Tenderfoot just starting out, or a Star Scout determined to reach Eagle before turning 18, this course is packed with tested methods, insider Scouting hacks, and helpful tools that you can use to take charge of your journey to becoming an Eagle Scout!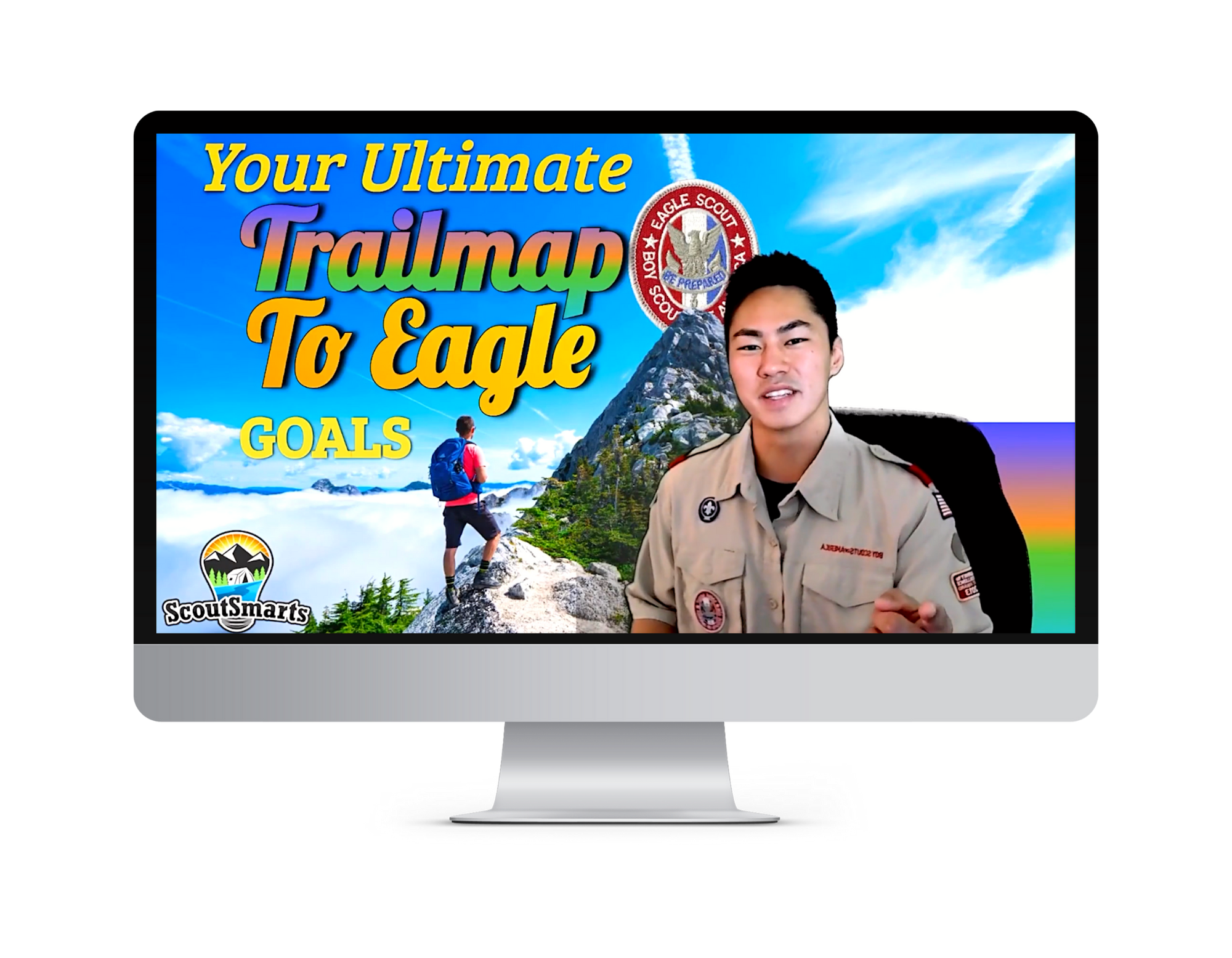 Course Overview


Having a smart plan is the key to success for earning your Eagle Scout rank. Otherwise, you could end up wasting time, feeling frustrated, and not making the most out of Scouting!
It doesn't need to be this way...
Throughout this course, you'll learn the best methods that I've used (and taught!) for staying organized and ranking up on your Scouting journey.
Once finished, you'll be 10X more likely to earn Eagle and have a better time in Scouting! Keep scrollin' a little further for a full breakdown of the TrailMap To Eagle curriculum. 😁





Still thinking it through? Well, I've got a few questions for you…. 
Does completing Scouting requirements often feel a lot harder than it should? 
OR…
Do you and your family feel overwhelmed by all the "should-knows" for ranking up that you might not know?
OR… 
Are you 100% confident that you're on the right path towards Eagle, and making the most of your time as a Scout? 

In Scouting, it's so easy to lose focus on your path to Eagle. Maybe all of the requirements seem so overwhelming that you're unsure of what steps to take next. Or, you feel fine with taking advancement slowly, until all of a sudden your friends have ranked up before you! While these situations aren't fun, they're common amongst a ton of Scouts.
But, what if I told you that ranking-up in Scouting can be easy and fun...
if you're prepared with the right kind of ScoutSmart plan!
I want to invite you to check out my new course that will help you to take charge of your journey to becoming an Eagle Scout. In it are my best learnings and hacks for staying organized, completing rank/badge requirements, and having the best experience possible in Scouting. Even if you're well into your Scouting journey, I promise you'll still learn a TON!
[By the way -- Although complete and packed with tons of valuable info, my TrailMap course will continue to be updated and expanded over time! So, if you buy my course now (for less than the cost of a video game), you'll also receive all of my future updates completely free! 🥳]